"Pop" is the third Hooley Dooleys video. It was released in 1999. The video took two weeks to film in March 1999. In 2009, there was a remake for this which was filmed in March 2009 and was planned to get released in 2009 video\album containing songs from 1997-1999 and songs from 2000-2009 and many more and was released sometime in 2009.
Song List
Edit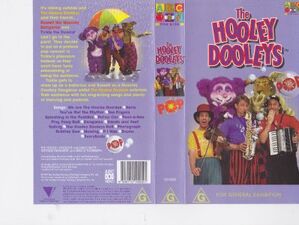 The Hooley DooleysEdit
Character VoicesEdit
This is the first Hooley Dooleys video to end in the ABC Video logo instead of the Roadshow Entertainment logo.
The Hooley Dooleys are wearing the same clothes in Keep On Dancing, Hooley Dooleys To The Rescue and All Together Now.
On the back cover in most Hooley Dooleys videos, the word "Muscly" was spelled "Muscley".
Watch Full Video!
Edit