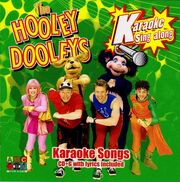 "
Hooley Dooleys Karaoke Songs
" was
The Hooley Dooleys
karaoke sing along album.
It was released in 2006.
Track Listing
We Are The Hooley Dooleys (Karaoke)
Yumbo Jive (Karaoke)
Bottom Boogie (Karaoke)
Ooga Chuga (In The Jungle) (Karaoke)
Keep On Dancing (Karaoke)
Monkey
Monkey (Karaoke)
Hip Hip Hooray
Hip Hip Hooray (Karaoke)
Energy
Energy (Karaoke)
Ants in My Pants
Ants in My Pants (Karaoke)
Super Dooper
Super Dooper (Karaoke)
Community content is available under
CC-BY-SA
unless otherwise noted.